Thanks to its hundreds of millions of daily users, Instagram has fast become the creme de la creme of social media marketing. It works particularly well for event promotion because of its image and video-rich approach to content consumption. In other words, long gone are the days where lacklustre flyers in shop windows offered the only means of capturing potential customers' attention.
Today, it's possible to woo your future event attendees with a myriad of engaging content types. From fleeting Instagram Stories that create intrigue (and FOMO), to eye-catching giveaways that build hype and spread the word – the possibilities are vast.
Here's a closer look at how to make Instagram really work for your event promotion strategy:
First off, can you create an event on Instagram?
Not in the sense that you can create an 'event page' on Facebook. But you can (and should) create a dedicated business Instagram account for your event/s. This will allow you to do things like promote posts (we'll talk about that later) and generally build an Instagram presence around your event.
Setting up a Instagram business account
Over 200 million Instagrammers visit a business profile each day – making it an invaluable way to connect with potential event attendees. It's easy and free to set a business account up – head to Instagram's useful guide to find out how.
Setting up a hashtag and geolocation tag
Once you've got your dedicated event page set up, you'll want to get the basics in place. Alongside uploading some initial enticing images and filling out your event bio, it's a great idea to invent/create a dedicated hashtag and geolocation tag.
For the hashtag
Use something short and catchy that's easy to remember – try abbreviating your event name and adding the year, for example: #SoulFest20 or #GlobalDigital20.
For the geolocation tag
A geolocation tag is a dedicated location, down to the longitude and latitude, that people can use to connect their content with your event. It also let's people find your event on a map, simply by clicking the tag. To create yours you'll need to login to Facebook (as Facebook now owns Instagram), click 'Check In', scroll down and click the option to add a new place.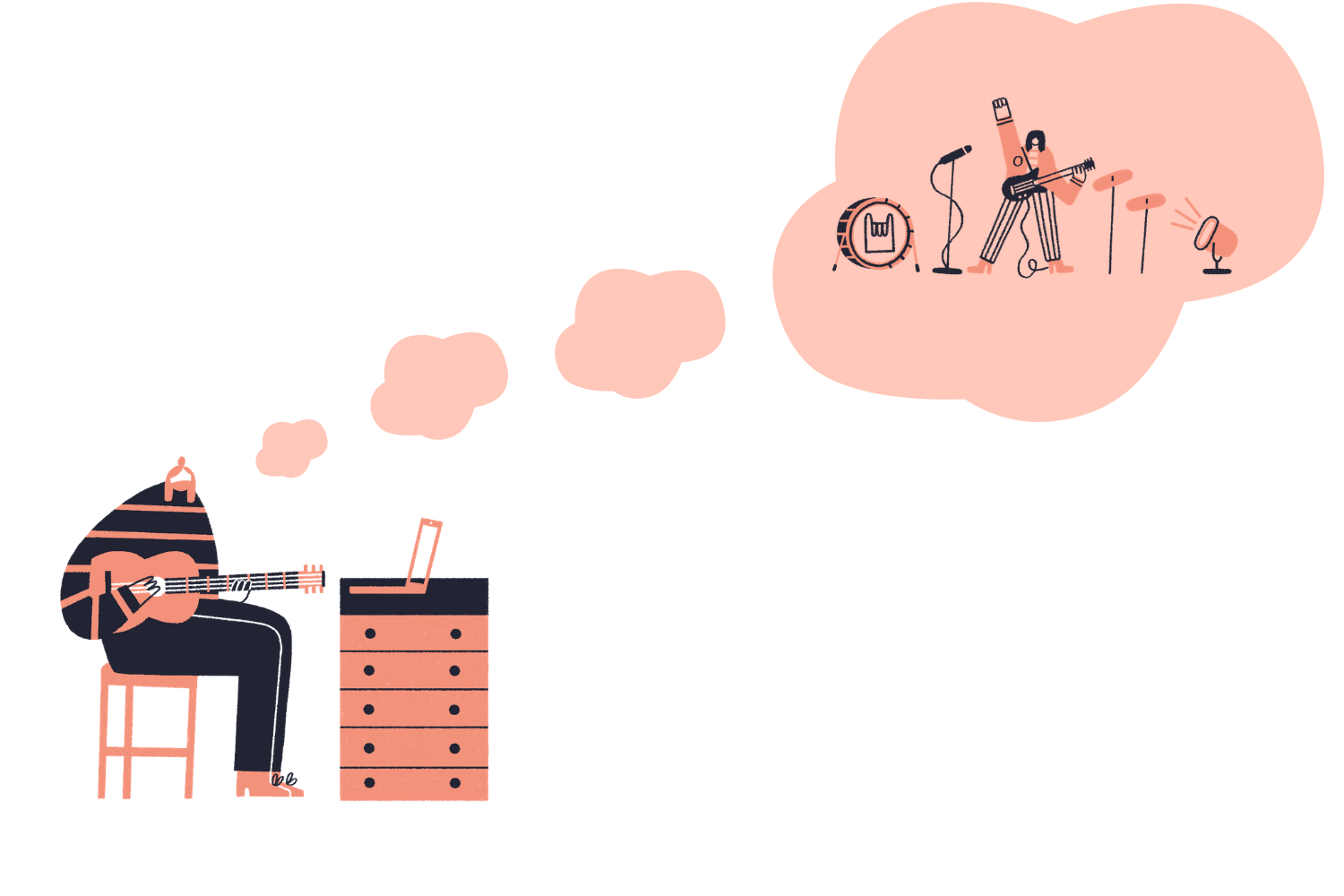 After you've filled out the relevant information, you'll be set to find your geolocation tag on Instagram. You should use this on all Instagram Stories to help increase visibility for your event. Which brings us onto…
Getting the most out of Instagram Stories
Most people are aware of this Insta feature by now – it's the addictive, high-energy content format that was introduced by Snapchat way back when.
The beauty of Instagram stories lies in the immersive nature of these little snapshots – people feel like they're getting a glimpse through the person behind the camera's eyes. To make it work for your event, create insightful videos that help build hype – an exclusive-feeling peak at behind the scenes rehearsals, for example. Or a fun selfie of your leading performer.
To get the most out of Instagram Stories, try these simple tricks:
Post regularly, and make content personal so people really feel they're getting to know the people behind your event
Use gifs and emojis in line with your brand tone of voice to inject personality into your Stories
Use the 'Countdown' feature to build excitement and anticipation around your event
Use the 'Swipe-up' feature (only available if you have more than 10,000 followers) to seamlessly take people to further information about your event
Create Stories Highlights – these are basically like Stories albums, allowing you to store groups of Stories that can be permanently accessed from your Insta feed. They're a great way of promoting your event and creating a real – forgive the pun – story around it.
Creating Instagram albums
When it comes to posting on your actual Instagram feed, it's a good idea to sometimes create albums rather than only ever posting single images or videos. So instead of uploading one image at a time, upload up to 10 to keep people engaging with the post for longer.
We're a society of swipe-savvy people – so if the option is there to keep 'swiping right', people usually will.
Promoting your Instagram event posts
When you use a business Instagram profile, it gives you the opportunity to promote your posts by putting some 'spend' behind them. It's really simple to do – you just need to choose your budget for a set time period, and then watch as the selected post receives a serious boost in engagement. You don't necessarily need to spend a load either – although the option's there if you want to.
Top tip: It's better to go for a short burst time-wise for the promotion, rather than trying to make your budget stretch out for longer. So instead of trying to make £30 last for five days, you could load up all of that budget for just a day or two and the post would probably gain more traction.
Partnering with an influencer
Instagram practically birthed the concept of the 'influencer' – and is teaming with high-profile users that have into the millions of followers each. That's not to say you need to partner with someone quite so influential though. Finding someone who's relevant to your event who has even a few thousand followers can be a great way to spread the word.
Partnering up with them might be as simple as offering them free tickets to your event, or if your budget allows it, you could pay them a fee. They'll then post about your event (marking the post as sponsored), putting in front of a whole new audience that you may never otherwise have reached.
Running an Instagram giveaway
It's really easy to get your existing audience to do a lot of the promoting for you on Insta – all you need to do is offer a giveaway. You could offer two free VIP tickets to your event in exchange for people liking and sharing your post, for example. Then all you need to do is sit back and watch the promo take care of itself.
Using Instagram insights
As with any kind of marketing, using insights about what works and what doesn't will be key to the success of promoting your event. It's not enough to just work on a hunch when it comes to knowing what draws the right attention from the right kind of people. Instead, you'll want to really take note of what gains traction – which is really easy to do by clicking on the insights icon on your business Instagram account.
From there, you'll be able to see data about your profile, including things like:
Likes, comments and saves on posts
Profile visitors and followers
Impressions and reach
Website clicks
With these simple steps, you'll find that using Instagram to promote your event is a really lucrative way to connect with potential attendees. Now to watch those sales come rolling in.